THE UNIQUE FUSION OF ACTIVES, TOUCH AND TECHNOLOGY
7 NEW highly-effective, super-charged facials target specific skin needs to reveal a new generation of facials for uncompromising results and client experience.
At the heart of each BIOTEC facial is ELEMIS' Skin Lift Touch. Harnessing the power of hands-on therapy, the Skin Lift Touch softens and prepares the skin. Significantly improving functionality, it enables the skin to convert energy from each technology and "receive" the actives more efficiently, whilst rebalancing its micro-flora.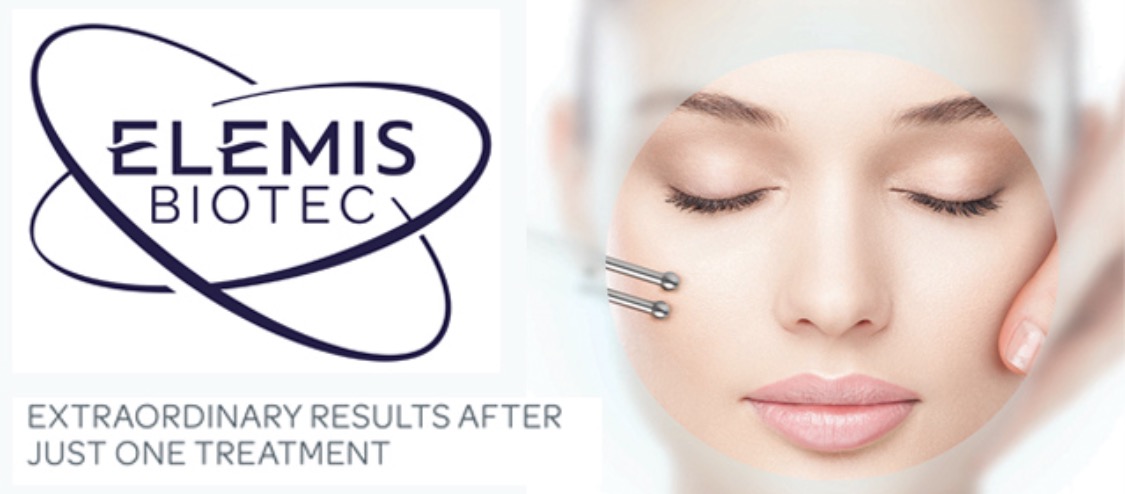 ELEMIS Pro-Glow Renewal+
FOR A HEALTHY GORGEOUS GLOW
ELEMIS' signature deep cleansing skin wellness facial harnesses the goodness of Prebiotics and antioxidants to deliver a healthy-looking, lit-from-within glow.
After just one treatment, skin looks visibly refreshed and rebalanced.
Supercharged with ELEMIS BIOTEC: Ultrasonic Resurfacing
50 minutes £65
ELEMIS Pro-Glow Brilliance+
YOUR RECIPE FOR RADIANCE
Experience out Ultrasonic peel technology and brightening enzymes to deep clean and remove visible pollutants, make-up and city grime for happy, healthy skin. Hydrating technology and antioxidant-rich superfoods will plump and smooth with a super-charged air massage to breath life into your skin.
Immediately revealing a super-healthy complexion, you'll look and feel more radiant, relaxed and glowing.
Supercharged with ELEMIS BIOTEC: Ultrasonic, Galvanic and Oxygen Infusion
50 minutes £72
ELEMIS Pro-Glow Resurface+
REVEAL STUNNINGLY SMOOTH SKIN
Super-charged deep cleansing and powerful ultrasonic peel technology eliminates visible pollutants, dirt and impurities for an immediately clearer brighter complexion. Gently resurfacing, helping to reduce visible dryness and smooth the appearance of fine lines.
Dull, uneven, tired-looking skin will appear instantly renewed and stunningly smooth and clear.
Supercharged with ELEMIS BIOTEC: Ultrasonic, LED light Therapy 7-in-1 Mask and Galvanic
50 minutes £72
ELEMIS Pro-Glow Smooth+
THE ULTIMATE HIIT WORKOUT FOR YOUR SKIN
Ultrasonic peeling exfoliates dead skin cells to smooth and prepare the skin for line-fighting Microcurrent technology, targeting lines and wrinkles for more radiant, youthful looking skin.
Skin will appear more vibrant, with improved feeling of firmness and elasticity.
Supercharged with ELEMIS BIOTEC: Ultrasonic, Microcurrent and Oxygen Infusion
50 minutes £72
ELEMIS Pro-Glow Genius+
THE ULTIMATE AGE DEFYING EXPERIENCE
Harnessing the powerful benefits of all 6 ELEMIS BIOTEC 1.0 technologies, skin will be visibly smoother, more sculpted and firm with a spotlight on deep-set wrinkles for maximum, multi faceted facial rejuvenation and skin hydration.
An unsurpassed age defying facial resulting in a more lifted, radiant youthful appearance after just one treatment.
Supercharged with ELEMIS BIOTEC: Ultrasonic, Microcurrent, Galvanic, LED Light Therapy 7-IN-1 Mask and Oxygen Infusion
75 minutes £85